Babymetal anan magazine interview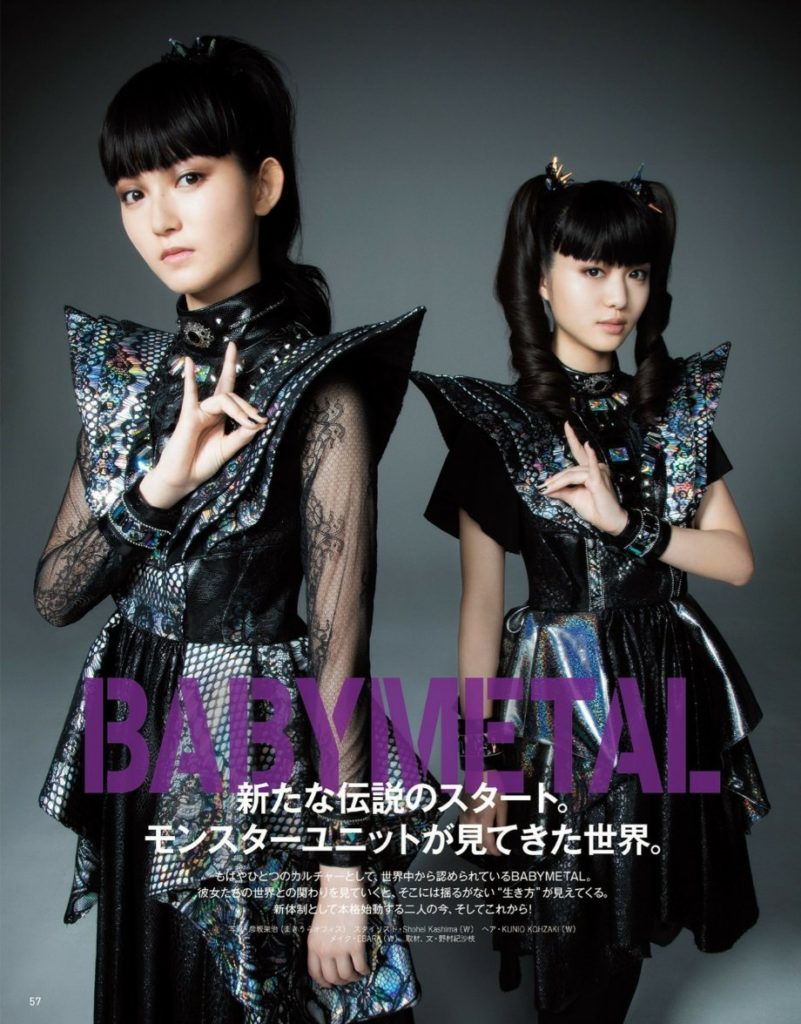 Volume 2158 of the anan magazine released in June 2019 in Japan featured an explanation about Babymetals success world wide by chief editor Umezawa Naoyuki from the Hedoban magazine and an Interview with SU-METAL and MOAMETAL about their current state as a two person group and their future goals for Babymetal. You can find the pictures of the article on babymetalnews.com. The original can be bought on amazon.co.jp or cdjapan.co.jp.
---
The Reasons Babymetal is supported by the world.
Since the big special feature about Babymetal in the first issue of the music culture magazine "Hedoban", chief editor Umezawa Naoyuki stayed on their side and watched over the girls rapid progress. We asked him regarding the fascination and enthusiasm for Babymetal worldwide.
"How will it come out like this?!" i just said, and i will never forget the impact of that. Seeing the promotional video of "iine!" in 2012, i was driven by the urge to see them live. It was in July the same year when i saw them live for the first time in the Meguro Rockmaykan Club and it felt magnificent. Constantly surprising, with a thrilling performance. Instead of seeing an idol group, it felt more like seeing a super exciting metal group.
Metal is a respectful style of music and an exclusive genre, especially in Japan. But i think it is the original fun in metal that made the People come to see something that wasn't seen until now. And the Babymetal performance on stage seems to be something that made the metal fans from the UK really excited. Even from metal fans who didn't know who they were until now, you can start to feel a change in atmosphere and hear them say "it's good to say i like Babymetal". I think it was a moment of understanding Japanese metal lovers. So that's how they started a spark in the world, as a unique existing group.
Babymetal is a fusion of Metal and Idol, with perfect dancing to metal. Thinking about how Japanese metal can go out overseas like this is great. It may not have been accepted as this new and unique kind of metal by foreigners, but it was. I think one of their driving forces is also the professionalism of the girls. At that time there were also some hateful voices out there, but Babymetal hold them down by the pure strength of their live performances. After changing from a three people lineup to a two people lineup it will surely be the same. I do remember the first big feature on the first "Hedoban" issue i wrote. At that time Su-Metal was 15 years old and Moametal was 13 years old. But you could already feel them performing solid. The comprehension and flexibility of Producer Kobametal about metal music led to a mixture of good vibes with the girls cuteness, a superb balance and perfectionism forming Babymetal. But honestly, I would have never thought that would lead to all the world wide activities they have done up until now.
| the pursuit of a unique road to a legendary metal festival
Every time i see them perform live, i am confident about their growth. They continue doing it day by day. After the end of the two days Budokan show in March 2014 followed the announcement for a foreign metal festival. In July they performed on the "Sonisphere Festival UK" in front of approximately 80 thousand people, with a television broadcast to the world. On midday in May 2017 (Note: it's actually 2018, Umezawa got the year wrong), after YUIMETAL was absent due to poor physical health from SU-METALS baptism ceremony performed in Hiroshima, they had their first live performance as a two people setup. I was anxious about what would happen, but it went over my imagination … they brought support to adverse circumstances. And also a whole stage and performance production. Anyhow, the situational feeling of "What is this" never stopped.
I think after this, what Babymetal will become from now, depends on the revival of their two egos. They seem to be aware of that and that they can't just rely on their team parts. How will Babymetal be revived and how will it look? This is something that i am really looking forward to from now.
Umezawa Naoyuki・Chief editor for 4 ~ 6 years for the music culture magazine "Hedoban" that is centered around metal music. Celebrating the first special report about Babymetal. One of the few domestic media sources who was so close to the girls from early on.
---
At any time, it is team Babymetal that delivers through everyone.
———— MOAMETAL
"I can feel through the Babymetal music that the world can be the one. Those who come to a live show are the people that have the love to enjoy Babymetal together. And I think the love for that is the same for Japanese people and for foreigners."
While touring inside and outside of Japan, foreign staff members have the custom to greet them in Japanese. "They love to say the words 'yoroshiku onegai shimasu'. Since these words don't exist in other countries, it's difficult to tell the meaning for them, but you can feel the thankful attitude they have using those greetings. I feel like I have to maintain this Japanese style. Because I love Japan so much, I want to spread it's good virtue around the world. I think our performances show the modest, polite and kindness feel of Japan and people get to appreciate the Japanese culture through Babymetal."
MOAMETAL will soon be 20. "This is an important junction in life and I am in the middle of this checkpoint. There is no way to change something about that" she said while being extremely calm about it. Her calmness shows that her actual age is already above 20, but then unexpectedly this faithful young woman starts talking about her love of food.
"When we go abroad, I try to eat something specific to that area. There is tasty food everywhere, but I want to go to Germany once again. Everything is so delicious there! And now that I will be 20, I talked with SU-METAL a lot how I want to go and try beer with her. *laughs*"
Is there something unique you want to say? "I am happy to be a pioneer. I feel like we create new paths and open them up to the children of the future."
I asked this big smiling girl what's her driving force, and after a short while she started answering. "'Team Babymetal'. The staff and the fans to name them exactly, I feel like we are all Babymetal together and everyone is important. That's why we were able to overcome hardships until now. I feel confident that this team will be alright no matter what. And I will never forget how thankful I am that I can do all these activities together with SU-METAL"
MOAMETAL・Born 4th July 1999 in Aichi prefecture. Scream and Dance. SU-METAL says: "You feel the vibe of a very skilled person near her. She has good communication skills and is always helping."
---
A world that felt far and old now feels familiar through Babymetal.
———— SU-METAL
SU-METAL fascinates the audience in an instant with her voice. While playing live, it is her more than anyone else who is watching the audience. "While touring, the reactions from the audience is different everywhere. The mood for the same song can always be different, and it's really interesting to see that. I don't know if it is just through seeing the responses or grasping the atmosphere, but I feel like the audience reaction is always part of the performance. I am interested in the process of evolution for Babymetal while touring, because i am also using my self-reflection to change myself. I am looking forward to show a different Babymetal every time."
She seizes the unique sensitivity at a live concert. Although, looking back at the time when they were setting out to the world, there was this feeling of being 'away'.
"But I also learned that when I sing, the audience reaction changes too. So I was confident that my music isn't wrong. And you get the feeling that the Babymetal members can create miracles and form it into an experience."
From early on, Suzuka loved to learn about Japanese history. "As I went overseas I got more and more opportunities to be asked about Japan, so i want to be able to explain it. I am also very interested in traditional Japanese dancing (buyou)." Currently she is studying Japanese culture. You get the impression of a grown up person but she laughs and denies it. "I think adults are more cool people. *laughs* Enjoying the years piling up is just one half of it, recently it also got scary. I feel like I have to correct my own words. Until now I have received a lot of help from the adults around me, but I have to overcome things using more of my own power from now. Through the actions of Babymetal I got to like metal, so our music makes me pride. The main cause for that was Summer Sonic in 2013. When Metallica was on stage, the music I heard had an immediate effect on my spirit and I got a strong impression of metal as wonderful music. From that time on I was thinking that people who still don't know metal might want to listen to it too, and with Babymetal I feel like I can be the start for that. I believe that this is our Mission."
SU-METAL・Born 20th December 1997 in Hiroshima prefecture. Vocal and dance. MOAMETAL says: "She makes the appearance of always pursuing her favorite songs and this is so cool. But i don't say it to her personally *laughs*"
---
We are really proud of this team. We want to unite the world with the culture of Babymetal.
MOAMETAL This may be the first time to talk as two.
SU-METAL Yeah.
—— Does it feel awkward?
MOAMETAL No, we two always talk serious together. Right?
SU-METAL Yes!
MOAMETAL We do our best *laughs*
—— We heard about SU-METALS unique way of communication.
SU-METAL Yes. When we talk about live songs, I express myself in colors, pictures and sounds. Something like 'let's do hey then one move and pyuu' *laughs*. But really just MOAMETAL understands it right away.
MOAMETAL I understand the color, but the picture is unique …
SU-METAL Before someone notices, the set list is already covered in puzzling images *laughs*
MOAMETAL Yes. *laughs* But it's a mystery that I am able to understand it.
—— Since when does this relationship exist?
MOAMETAL It feels like a really long time ago. Is it since we started doing solo shows? Meguro Rockmaykan Club and so on.
SU-METAL Probably since 2012. I gradually got this sense of communication.
MOAMETAL I am not particularly aware when I started to understand it.
SU-METAL Friends, Family and Babymetal members don't really understand our relationship. We are the closest for already 9 years now, because we overcame the various hardships over and over.
MOAMETAL Even if we don't have a conversation, we can communicate through natural sense. Also while touring, when the next day after a show is a day off, we naturally gather together and talk like single-minded.
SU-METAL We always eat dinner together so we also use the time to look back on the live performance and talk about it.
MOAMETAL In the hotel rooms it's different though, we always meet in one of them and then one of us is dozing off without the other noticing. *laughs*
SU-METAL Hahaha. It's mainly my room we go most of the time.
—— In which parts are you two similar?
SU-METAL are there any?
MOAMETAL I don't think there are so many similarities.
SU-METAL ・MOAMETAL …… (both of them at the same time) But.
SU-METAL Ahahaha! We have that phenomenon a lot of times. We are thinking about it together.
MOAMETAL Despite our personalities being really different. Is it because we are always together?
SU-METAL It seems like this happened slowly. Ah! Our point in common is that we 'don't want to be alone'.
MOAMETAL Yes, that's it.
SU-METAL And we never want to go home. *laughs*
MOAMETAL We are always the last to remain backstage. Because we are always sharing fun things together. When a live show has ended we always want to talk a lot about it.
SU-METAL Moreover I feel like I enjoy it when we mostly have a tight schedule.
MOAMETAL It seems like 'exceeding limitations'. That way we can have continuously fun together.
—— Is there a secret between just you two while performing?
SU-METAL When the timing comes to turn to the back, I have a lot of eye contact with MOAMETAL. Also when she stands behind me, without everyone knowing, she can mess with me. I think despite being at a live concert there is always some leeway for it.
MOAMETAL It's always the fun part at a live concert *laughs* SU-METAL is always in perfect form you know?
SU-METAL That's not like it.
MOAMETAL For me it's always perfect. *laughs* Even if i feel weak today, I always want to cover up for it. On the other hand, when all the power starts to come out, I feel like doing my best in supporting each other. I still share all my emotions at live concerts without noticing it.
—— What are your future goals to aim for from now on?
SU-METAL I want to increase the feel and fascination for metal through Babymetal's music.
MOAMETAL Yes. We first want to establish the culture of Babymetal as being one and then I want to be able to say 'The world can be one with this music'.
SU-METAL After that, I want to be able for children to admire music. For this reason Babymetal will always push through the journey.
BABYMETAL・Formed in 2010. They started a fire overseas after 2013. Participated in festivals and tour supports for famous artists around the world. This year from September through October they are holding a US tour.
---
Relying on faith, making our words true. — MOAMETAL
We compensate our strength and weaknesses as two, for a good balance. — SU-METAL
Babymetal continues to push through their journey.