QUIZ – 10 BABYMETAL LEGENDS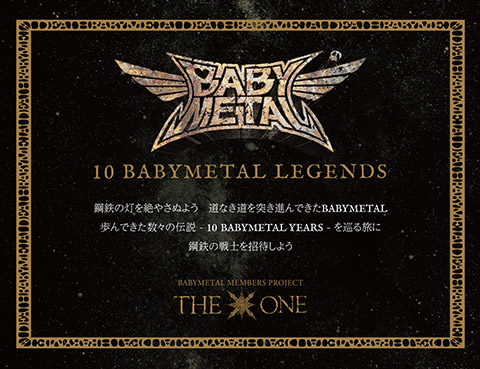 The 10 BABYMETAL LEGENDS is a Quiz for members of THE ONE. You can find the Quiz on https://theone.babymetal.jp/special/10years/ if you have an account. In this post I will try to translate the questions and answers so non Japanese fans can participate in the quiz.

You can find out more about the quiz and how to become a THE ONE member on the unofficial babymetalnews.com, the best source of information for foreign fans that prefer English.
Secret Code
After selecting the correct answer for a question, you are able to receive the secret code from the Fox God. After clicking the -SECRET CODE- button, the message reads:
"Excellent everyone. The Fox God provides everyone who carefully selected the right answer with the revelation (word) that will guide them on their way to become a chosen evangelist"
The secret word is written in the brownish colored box and will be used at a later date.
Question 1
To answer the prayers of metalheads to save the metal, BABYMETAL descended upon the earth, sent by the "God of Metal", the Fox God. In order for the Metal Spirits to save Metal, the Fox God gave BABYMETAL the divine message of "Destiny", "Fate", "Duty" and "Revolution". What is the general term for this divine Message?

A: METAL RENAISSANCE
B: METAL REVIVAL
C: METAL RESISTANCE
D: METAL RECONSTRUCTION

Question 2
With BABYMETAL's descent onto the world you could hear "I want to see an unknown world! I want to see it!" from the people's voices. The Fox God created a recording with singing and dancing dedicated to the "first impulse and feeling of the morning" and gave it to the world. What are words of the scripture that were spread around all the places with this given record?

A: Ring Ring Ring!
B: Bang Bang Bang!
C: Dong Dong Dong!
D: Rang Rang Rang!

Question 3
"Blessed be the shaking of your head" said the incarnation of the god to the chosen ones who gathered at the sacred place where ancient gods once stood, wearing the legendary corsets. The black haired girls of the legend arrived at the "promised land" of the metal gods, disturbing the holy altar in beauty and to raise great joy in the metalheads. What is the name of this sacred place?

A: MADISON SQUARE GARDEN
B: NIPPON BUDOKAN
C: MEGURO ROCKMAYKAN
D: TOKYO DOME

Question 4
BABYMETAL continues the holy war to take back the lost souls of Metal. A new order was born, at the moment when the existence seemed to end, reincarnated into a new life as crimson red and white miracles. What was the name of the holy ceremony in which the revival in part "Z" took place.

A: I, D, Z ~ LEGEND"Z"
B: I, D, Z ~ LEGEND"D"
C: I, D, Z ~ LEGEND"I"
D: I, D, Z ~ LEGEND"I, D, Z"

Question 5
3 years have passed since BABYMETAL descended above the earth to continue their path to reconstruct the soul of Metal…. The metal spirits proclaim the great teachings of "KAWAII" and "METAL" from the land of the rising sun onto the whole world, raising the voice of metalheads in joy around all the nations. What is the name of the overarching scripture that the people of metal shout out in delight?

A: LEGENDMETAL
B: BABYMETALDEATH
C: KAIWAIIMETAL
D: BABYMETAL

Question 6
After their missionary travel around the world, BABYMETAL returns to THE RISING SUN (land of the rising sun). Storming into METAL RESISTANCE chapter 3, the "Fox God" ordered the metal soldiers to gather in Saitama. Only the chosen ones – THE ONE – who are given a "METAL NAME" were awarded a "holy ticket" to stride to Saitama. What is the "holy ticket" called that the chosen ones – THE ONE – were holding in their hands?

A: GOLD TICKET
B: PREMIUM TICKET
C: SPECIAL TICKET
D: LUCKY TICKET

Question 7
BABYMETAL continued on their trackless path to finally arrive at the giant hen's egg – BIG EGG -. The world became one – THE ONE – and the "Fox God" gave the gathered Metal warriors a corset and said "Headbang to be happy" so the flame of Metal won't go out. And at that moment when every one's heart became – THE ONE – a pure white light spread from the corsets on the "Red Night". What color of light was emitted by the corsets on the "Black Night" at that moment?

A: RED
B: BLUE
C: YELLOW
D: ORANGE

Question 8
With the 5 colored foxes becoming one – THE ONE – and the giant flame illuminating the pitch black darkness, the end of METAL RESISTANCE chapter 5 revealed METAL RESISTANCE chapter 6 – APOCRYPHA -. In a ceremony where a holy person will be reborn into a sacred god, a new messiah will lead the generation XX and descent as a NEW GODDESS. Together with the garments and pendant, what was given to the attendees of the holy ceremony as "the Three Sacred Treasures"?

A: MASK
B: WATER
C: COIN
D: WRISTBAND

Question 9
"Light" and "Darkness" are two parts of the same thing, one can not be without the other to have balance. We have seen the story of the light side with the three metal spirits, but there exists an unknown story of the dark side about seven metal spirits. The metal spirits put on their pitch black armor and as the pointer on the clock of destiny begins to move, the myth of "Metal Resistance" transcended into a new space and time as the curtain opens. What was the title of the dark Apocrypha that got revealed as the seven heroes of the DARK SIDE untied the knot?

A: DARK NIGHT CARNIVAL
B: DARK METAL RESISTANCE
C: THE CHOSEN SEVEN
D: DARK METAL SEVEN

Question 10
The curtains opened for a NEW ERA as the moon shines it's glaring light on the ground of Owari and with a holy tune resounding through the sky awakening – ANGEL MOA -. And so continued BABYMETAL on it's path and the Metal Spirits started their travel to the heart of the Metal Galaxy, playing a melody of metal from the large scriptures to the world. To bring light to the infinite darkness, the Metal Warriors were invited to travel with them. What was the name of the big scripture that was given to the Metal Warriors?

A: GALAXY METAL
B: SPACE METAL
C: SHINE METAL
D: METAL GALAXY