Natalie live report – LADYBABYs last performance LIQUIDROOM 2020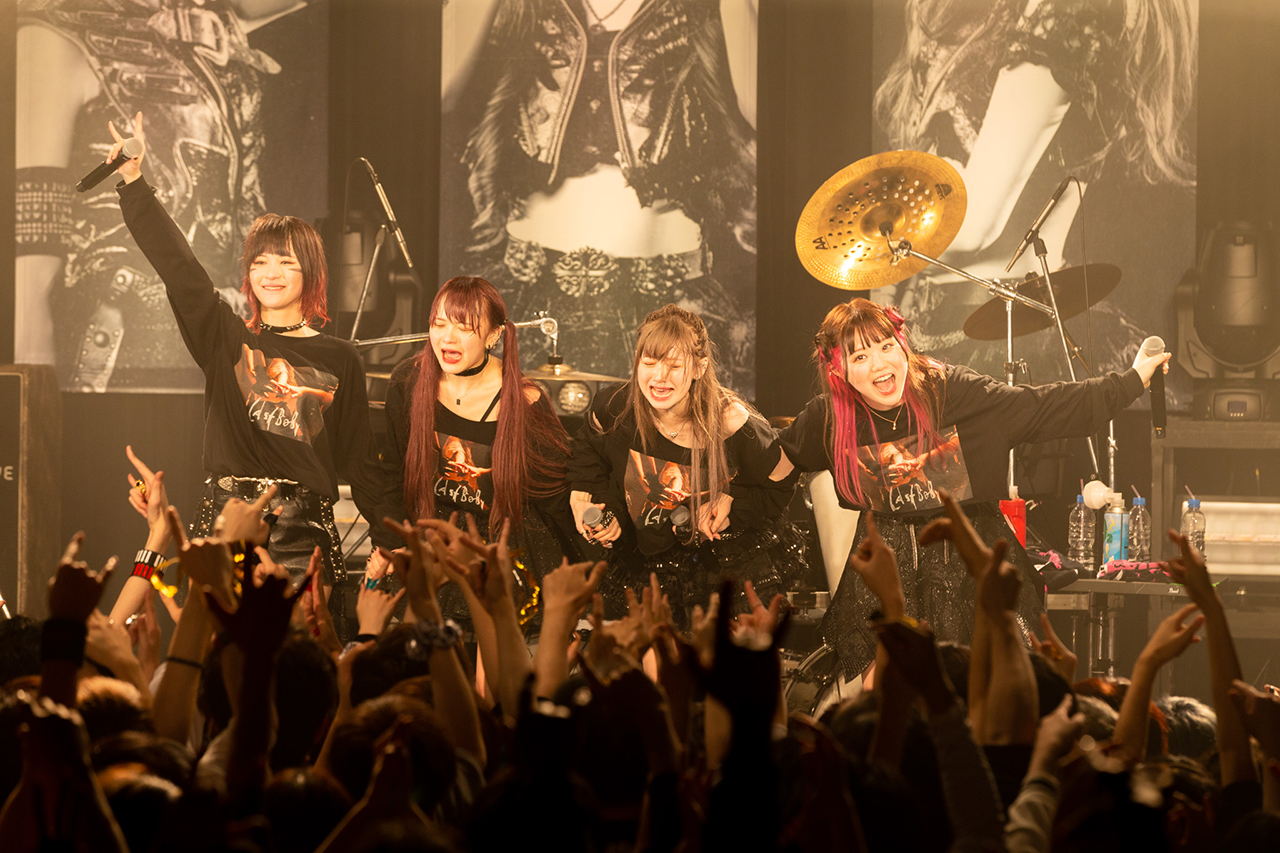 Natalie live report of LADYBABYs last live performance at LIQUIDROOM Tokyo in January 2020 before they paused their activities. Check out the original article for pictures of the show.
---
Ladybaby produced an enthusiastic last live performance before their suspension of activities. The four also talked about the place they belong to.
With LADYBABYs headline live show "Reburn" at LIQUIDROOM Tokyo on the 13th of January (2020) they stopped their activities.
LADYBABY started in 2015 to put together their original genre called "Kawaii-Death", a combination of J-POP and death metal vocals. The founding Member Rie Kaneko added the new members Nana Ikeda, Emily Arima and Fuka Karasawa in February 2018 to create a four person structure. The final stage of their "SEE YOU Reburn TOUR", which started November last year (2019), was today's LIQUIDROOM performance. It was their largest headline show they ever did, gathering a huge crowd of fans.
The enthusiasm inside the venue was rising before the show started. LADYBABY began the show with their debut song "Nippon Manjuu", backed up by an impressive performance of the backing band THE CHAOS. Arima's death growls where echoing after the intro, bursting into Ikeda's clean rap on the second song "HATEN NI RAIMEI". Kaneko was greeting and encouraging the audience: "Regardless of the end, we have the motto to create a show with space for each person. Please express yourself with your body and voice and create the LADYBABY live show together. Thank You!"
LADYBABY continued with "Pinky! Pinky!", started as a cappella sung by Karasawa, and their loud rock song "Riot Anthem", exciting the follower with the groups flavor of hard songs. Continuing after those four songs was an announcement with smoke vigorously rising up the stage, building up to Arima's death growl solo performance accompanied by THE CHAOS' heavy sound. Delivered by the ballad song "God's Not" was a screening of interview videos for each individual member, putting the venue in a sentimental mood. The show restarted after the break with "Generation Hard Knocks" when Kaneko's strong singing voice echoed through the venue: "I want to live, I want to live more". For "endless end Hello" the member and fans waved their hands together from left to right, the whole venue like one. The song is themed around "parting ways" and is a single from the album "REBURN" which was released on January the 13th (2020).
The four introduced the members of THE CHAOS and every one of the girls had an appreciative speech to the fans. Ikeda told the audience: "LADYBABY was the only thing where I belonged. There was nothing for me every day and then it hit me like a beam of light. I was able to feel various challenges and experiences over those two years". Arima expressed in hopeful words: "Even if the break is settled, I think that LADYBABY will stay LADYBABY when we follow our separate paths. We all go on with happy memories". Karasawa, while crying, promised for a reunion: "I will improve more and more. I want to grow up to not be a burden to anyone and return to stand on the stage as us four sometime. Sometime, definitely". Kaneko expressed her feelings: "When I realized that Ladybaby was the place I could expose my own feelings I knew that I want to perform live, a place where I can be someone and where I belong. It was worthwhile to keep doing it for 5 years if you are able to stay so close to the people every moment. Idoling isn't that important, this is what being an idol and LADYBABY have taught me". After LADYBABY finished sharing their individual thoughts they started to sing "C'est si bon Kibun" with their folding fans in one hand. Their followers started to throw masses of printed paper money up in the air for the last song "Age-Age Money".
The four girls appeared on stage again for the encore to play the in May 2018 released single "Starless Sky", the single that first presented the latest group configuration, as well as the "Kawaii-Death" styled with a taste of Shouwa era (Era that lasted until 1989) added "Dame Dame Tono", with the fans jumping together to the song. And then they shouted "We want to end it with our first song", cueing "Nippon Manjuu" in, ending their last live show with wild enthusiasm before they rest their activities. Kaneko communicating her feelings and gratitude with all her strength she got: "I think it will be good to return to this team once again … THANK YOU VERY MUCH!!".
Ladybaby "Reburn" 13. January 2020 LIQUIDROOM Setlist:

SE. overture Oversea (Long ver.)
01. Nippon Manjuu
02. HATEN NI RAIMEI
03. Sanpai! Gosyuin girl☆
04. Easter Bunny
05. Pinky! Pinky
06. Shibuya CROSSING
07. Riot Anthem
08. Misogi island
09. God's Not
10. Generation Hard Knocks
11. Endless end Hello
12. C'est si bon Kibun
13. Age-Age Money
<Encore>
14. Starless Sky
15. Dame Dame Tono
16. Nippon Manjuu